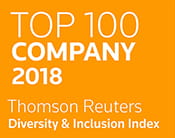 MELBOURNE, Australia. – September 18, 2018 – Thomson Reuters has ranked global biotechnology leader CSL Limited one of the top 100 companies in its 2018 global Diversity and Inclusion Index. This achievement reflects CSL's promise to build a workplace culture where employees have a promising future and can fulfill their career aspirations, realize their potential and be part of a purpose-driven company that focuses on saving and protecting the lives of people around the world.
The Thomson Reuters Diversity and Inclusion Index reviews more than 7,000 publicly listed companies to identify the top 100 with the most diverse and inclusive workplaces. The Index was designed with the idea that companies tracking, reporting and achieving on measures of diversity, inclusion and people development will offer better performance over time than those achieving lower scores, or not tracking these measures.
"At CSL, we rely on our people's diverse perspectives, ideas, capabilities and experiences to help us deliver on our promise to our patients and other key stakeholders, " said Elizabeth Walker, Executive Vice President and Chief Human Resources Officer. "Our employees build promising futures by contributing to an inclusive work environment where everyone has equitable access to career opportunities, training and benefits."
CSL is comprised of two businesses: CSL Behring, a recognized global leader in providing life-saving biotherapies for people stricken with rare and serious diseases, like hemophilia, hereditary angioedema and primary immunodeficiency, and Seqirus, the world's second largest influenza vaccines provider. CSL employs more than 22,000 people, bringing medicines to people in more than 60 countries. Earlier this year, Forbes Magazine ranked CSL as one of the top 50 employers in the world.
Diversity and inclusion underpin the company's Values of patient focus, innovation, collaboration, integrity and superior performance. Diversity and inclusion have also contributed to the company's strong businessgrowth and performance by helping CSL to:
better understand and connect with patients and other stakeholders;

attract, develop, retain and engage talent for long-term success;

foster creativity and innovation; and

improve the quality of the company's decision-making.
More information on the company's commitment to diversity and inclusion can be found on its global website.
About CSL Behring
CSL Behring is a global biotherapeutics leader driven by its promise to save lives. Focused on serving patients' needs by using the latest technologies, we develop and deliver innovative therapies that are used to treat coagulation disorders, primary immune deficiencies, hereditary angioedema, inherited respiratory disease, and neurological disorders. The company's products are also used in cardiac surgery, organ transplantation, burn treatment and to prevent hemolytic disease of the newborn.
CSL Behring operates one of the world's largest plasma collection networks, CSL Plasma. The parent company, CSL Limited (ASX:CSL;USOTC:CSLLY), headquartered in Melbourne, Australia, employs more than 22,000 people, and delivers its life-saving therapies to people in more than 60 countries. For inspiring stories about the promise of biotechnology, visit Vita at CSLBehring.com/vita and follow us on Twitter.com/CSLBehring.
###
MEDIA CONTACT:
Christina Hickie, Senior Manager Communications
CSL Limited
+61 429 609 762
Christina.Hickie@csl.com.au